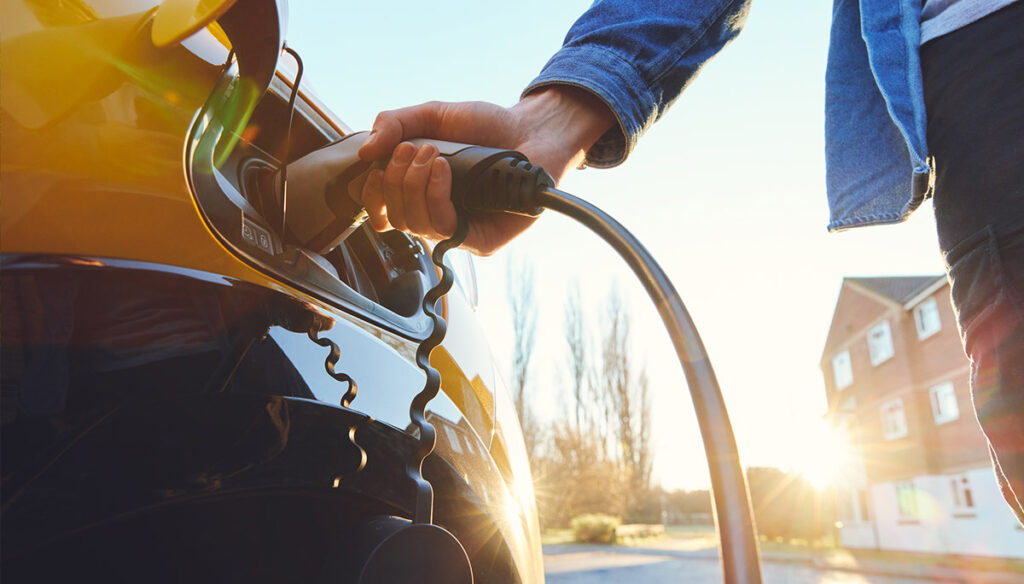 Buyers quizzing you about EV chargers. Residents asking for solar panels on the communal roof. Industry bodies publishing new net zero strategies. The chatter around sustainability is growing louder by the day. What are the five hot topics that property managers need to keep on top of?
1. Sustainability has become a must-have
Sustainability used to be a niche in the property market. Super-efficient homes for eco-enthusiasts.
For a mainstream business, it was a nice-to-have, not a must-have.
Now, that's all changed.
Eco features such as insulation, solar panels, and EV chargers reduce running costs, increase the value of the property, and will help comply with future net zero regulations.
They also keep existing residents happy and entice prospective buyers.
The so-called green premium helps properties sell faster and for more money. Between £3k to £5k more, according to the National Association of Property Buyers.
And according to the Home Builders Federation, eco-credentials and a decent EPC rating have become the second and third most desirable factors in a new home.
These days, it's all location, location, insulation.
2. Tighter sustainability regulations are looming
Regulation changes are looming too.
On the buildings front, the government has said that all homes will need to have an Energy Performance Certificate (EPC) rating of C or above by 2035.
And while the EPC is individual leaseholders' responsibility, it could involve upgrades that will affect parts of the building they don't own.
Cavity wall or loft insulation, for example, might need the coordination of several leaseholders and the freeholder. The same goes for solar panels on a communal roof.
A new net zero standard for buildings is also in the wings.
The UK Net Zero Buildings Standard will provide an industry-agreed standard for what a net zero building is, and new metrics to measure every building's performance.
It's a work in progress, with more news due this year.
3. EV chargepoints are inevitable…
Time's almost up for petrol and diesel cars and vans, with the ban on new sales coming into force in 2030 – just seven years away.
As a result, the EV market is motoring.
At the end of 2022, more than one in five new vehicle registrations in the UK were plug-in vehicles – either fully electric or plug-in hybrid.
The second-hand market is moving up a gear too, with impressive growth figures bucking the overall motor industry trend.
What does all this mean for property managers?
One thing. EV chargepoints.
To make the most of their vehicles, people will want to charge at home. For apartment owners, that will mean either:
A chargepoint for their allocated parking space
Multiple chargepoints in the communal car park.
Access to EV charging will become a basic need for both existing residents and prospective buyers.
Location, insulation, electrification?
4.  …but they create a few extra tasks
Meeting the demand for EV chargepoints is unavoidable and will soon become a priority, if it isn't already. But it's not always simple.
When it comes to apartment blocks, there are usually a few hurdles to clear, such as:
Coordinating leaseholders, especially when parking bays are unallocated
Getting permission from the freeholder
Securing the up-front investment
Researching the latest tech
Organising access to grants (more on those later)
Sorting infrastructure, such as signage and cabling
Giving installers access and overseeing the work
5. Government grants for EV chargers: how much can you get and how long will they be around for?
The government is firmly behind the transition to electric, and there are grants to help you pay for chargepoints.
An EV Chargepoint Grant gives apartment owners 75% or £300 off the cost of the chargepoint, whichever is lower.
Individual residents can apply, though it makes sense to coordinate multiple applications at once to minimise disruption.
If you're a landlord, you can apply on your tenants' behalf, covering up to 200 properties per year.
An EV Infrastructure Grant helps you pay for the infrastructure you need to put in, such as wiring and posts.
You can get up to £30,000 or 75% off the cost, whichever is lower. This grant isn't available to individual residents, just apartment owners and managers.
It's worth applying for these grants as soon as you can. We don't know how long they'll be around for and when they do close, it will probably spark a mad dash.
To find out how to apply, read our guide: Government grants for EV chargepoint installation in apartment blocks & commercial properties
How Powerverse can help
At Powerverse, we offer a one-stop solution for rolling out EV chargepoints across your property portfolio.
You get:
A chargepoint eco-system tailored to your needs
Help accessing the government grants
A fully managed, end-to-end service, without the hassle of dealing with multiple contractors
Access to the latest tech, including an AI-driven app for residents to manage their charging
Find out more about our solutions for Property Managers here.