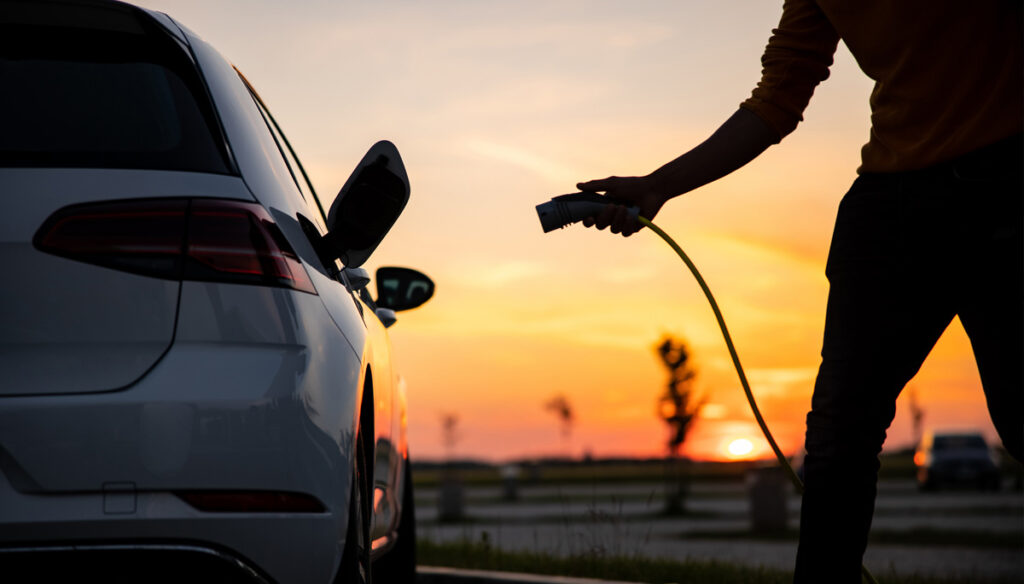 One minute the EV market is booming, the next it's stagnating. There are so many stats and news stories flying around about the transition to EV, we thought it was time we provided a definitive lowdown.
So, here are our top four EV market stats you need to know in 2023.
1. EV market share: Fossil fuels are clinging on – but for how much longer?
The UK government publishes new vehicle registration stats each quarter. The data gives great insight into how the market is shaping up.
In Q3 2022 (July to September), approximately 41% of new car registrations were EVs – either battery electric (BEV), plug-in hybrid (PHEV), or hybrid (HEV).
That's in contrast to 50% for petrol cars and 8% for diesel.
The EV market share is not far off petrol, and with the ban on the internal combustion engine looming, it's only a matter of time before it catches up.
Among the EV registrations, 14% were BEV, 5% were PHEV, and 22% were HEV.
Comparing the 2022 data to previous years shows how quickly the market is changing.
Vehicle licensing stats between 2021 and 2022 show:
Petrol and diesel new car registrations went down by 4% and 10% respectively
BEV new car registrations went up by 18%
PHEV new car registrations went up by 22%
HEV new car registrations went up by 17%
And over the last five years…
Petrol and diesel down by 42% and 88% respectively
BEV up by 1,624%
PHEV up by 143%
HEV up by 309%
EV market share: key takeaway
Petrol cars still have a bigger market share – just. But right now, they're stuttering in the slow lane. It won't be long before EVs cruise past – quiet, smooth, and emissions-free.
2. The most popular models: Did somebody say Tesla?
Sticking with those UK government stats, let's take a look at the most popular EV models in the UK.
(Before you ask, the data counts different variations of the same model as one model, for simplicity).
Ready?
Drum roll please.
In Q3 2022, the top three EV newly registered vehicles were…
Tesla Model Y with 8,600 sales
Kia Niro with 2,900 sales (2,500 battery electric and 400 plug-in hybrid)
Nissan Leaf with 2,400 sales
The rest of the top five was made up of the Hyundai Ioniq and the Tesla Model 3.
Every spot in the top 25 is occupied by a car.
For other vehicle types, the Vauxhall Vivaro was the most popular plug-in light goods vehicle, and the Ford Transit was the most popular plug-in heavy goods vehicle.
The most popular models: key takeaway
Cars are dominating new EV sales, with Tesla in the driving seat. Between the Model Y and the Model 3, almost 11,000 were registered from July to September 2022.
3. The second-hand EV market: There's deals to be had
New EV registrations are booming.
But what about the second-hand market for electric vehicles?
According to research by Indicata, the EV share of the second-hand market rose to 3% for the first time in April 2023, with sales rising by 0.3%.
There's still a way to go to catch up petrol and diesel counterparts, but the market is young.
In terms of prices, AA research shows that used EVs are selling for less than half their original price. That compares to around 65% for diesel cars and 67% for petrol cars. Those figures are based on vehicles that have either 60k on the clock or are 3 years old.
The second-hand market: key takeaway
Although the market share is still small, it's growing. And with tumbling used prices, there are some bargains to be had.
4. Chargepoint infrastructure in the UK: Range anxiety could be a thing of the past
As auto-dealers will know all too well, range anxiety is a common concern for first-time EV buyers.
But there's good news on that front.
Chargepoint availability is ramping up faster than ever, meaning worries about running out of juice could soon be a thing of the past.
Chargepoint mapping app Zapmap reckons that at the end of May 2023 there were over 46,000 public chargepoints across the UK, spread over 25,000 charging locations.
That's an increase of 38% compared to May 2022.
Zapmap's data shows that 8,484 of those 46,000 public charge points are rapid or ultrarapid.
Over 500 new rapid or ultra rapid charge points were added to the app's database in May 2023 alone.
And in the past year, there's been a 99% increase in the number of ultra rapid charge points across the country.
Chargepoint infrastructure in the UK: key takeaway
While you might still be fielding questions from buyers about range anxiety, it's rapidly becoming a thing of the past. The UK's charging infrastructure is expanding quicker than you can say type two charging connector.
About Powerverse
We're experts in EV charge points, solar panels, home batteries, and smart home energy systems. If you're an EV auto dealer, speak to one of our team about our white label EV chargepoint and solar panel bundles you could offer your customers.