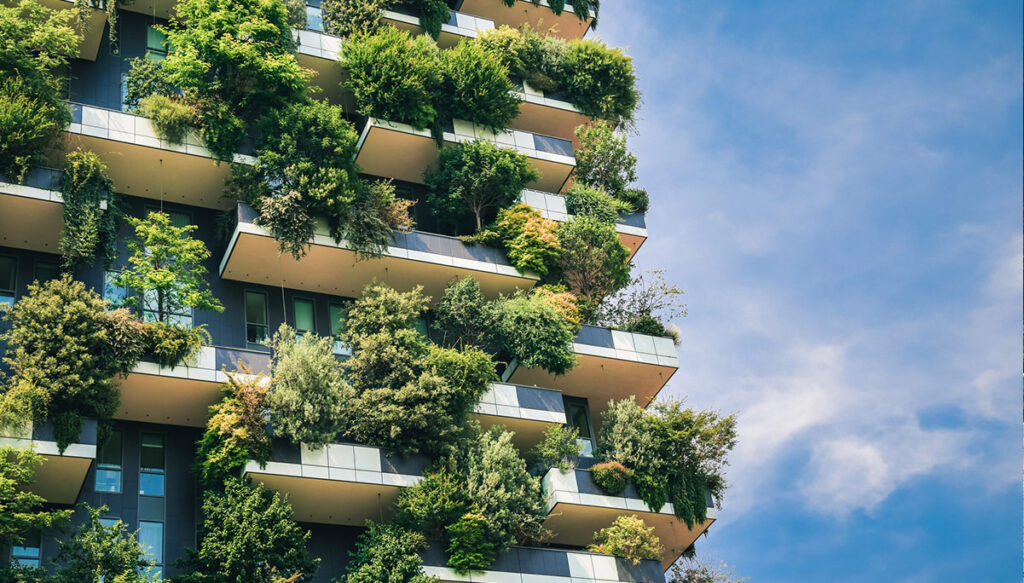 The World Green Building Council estimates that buildings account for almost 40% of all energy-related carbon emissions. 
In the race to net zero, the built environment is a front runner.
But what makes a sustainable building?
Materials, energy, water, and biodiversity all have a role to play.
Let's look at five trailblazing examples of green apartment blocks from around the world for some inspiration.
1. Palazzo Verde, Antwerp, Belgium – the green palace
Year opened: 2014

Sustainability creds: urban forest, residents' repair centre.
With its trio of green roof terraces, the Palazzo Verde in Antwerp is Belgium's green palace. 
Combined with the central public garden, it gives the block 428,888 square metres of greenery made up of over 2,000 shrubs and almost 100 trees. The flora and fauna aren't just there to look good; they also absorb about 5,500 kgs of carbon dioxide per year and help clean the city air.
As well as this urban jungle, the block has a "Circularity Centre". The Centre is equipped with tools and equipment residents can use to fix bikes and other household items, keeping their stuff in use and out of landfill for as long as possible.
2. Bosco Verticale, Milan, Italy – life in the urban forest
Year opened: 2014

Sustainability creds: urban forest, solar panels, wastewater harvesting.
Milan's Bosco Verticale looks like two giant beanstalks shooting up from the streets.  
But Jack hasn't been planting beans. Get closer, and you'll see two apartment blocks covered in 20,000 trees, shrubs, and flowers.
This vertical forest is watered with filtered wastewater and absorbs an estimated 20,000 kgs of carbon dioxide each year. It's also become a sanctuary for wildlife. Birds, butterflies, and other small animals have all taken up tenancies in the block.
The building is very energy efficient too. The plant life helps regulate temperatures by absorbing heat and creating shade in the summer, and blocking wind in the winter. Inside, the building uses solar-generated energy.
3. Marco Polo Tower, Hamburg, Germany – for a cooler lifestyle
Year opened: 2010

Sustainability creds: heat exchanger cooling system, natural ventilation, a design that minimises direct sunlight.
A building that lives up to its namesake, the 55m high, award-winning Marco Polo Tower on the banks of the Elbe River in Hamburg is pioneering.
Architects Behnisch Architekten used a combination of innovative design and cutting-edge tech to minimise the energy needed to heat and cool the building.
On the design front, each of the 17 storeys is turned slightly on an axis, so that each one overhangs the floor below. This provides shade, so there's no direct sunlight blazing in and no need for electric air conditioning.
In terms of sustainable tech, the building has its own low carbon cooling system, using a vacuum and heat exchanger on the roof to convert warm air into cool air.
4. One Central park, Sydney, Australia – high-rise garden living
Year opened: 2013

Sustainability creds: urban forest, a heliostat to maximise natural light, trigeneration energy system, water recycling.
One Central Park in Sydney is a two-tower complex with over 600 apartments and car park spaces. It's a sustainability big-hitter.
Outdoing the Bosco Verticale, it's one of the highest vertical gardens in the world at 50m. The plants sit in individual planter boxes, attached to floor slabs. There are over 85,000 plants covering 350 species, 250 of which are native to Australia.
It also has its own low carbon power trigeneration plant that produces electricity, heating, and cooling in one system. It runs on natural gas, but it's highly efficient.
When it comes to water, the building has a recycling system that captures rainwater, groundwater, and stormwater. The water is cleaned using membrane bioreactor filters and meets all the residents' water needs.
But perhaps the building's most out-there feature is a cantilevered heliostat.
If you're not in the know, a heliostat is a device with moveable mirrors that track the sun.
At One Central Park, the heliostat has 40 large mirrors that are used to reflect sunlight onto the vertical gardens and communal areas below.
5. 303 Battery, Seattle, USA – zero energy accommodation
Year opened: Due for completion 2023

Sustainability creds: low energy heating, hot water, and lighting, prefabricated construction, solar panels, and battery storage.
We're cheating a little with this one, because this one's still being built. But 303 Battery in Seattle is billed as the world's first net zero energy high rise apartment block.
It has prefabricated floor, wall, and ceiling panels, which cut construction waste because you don't need to deal with raw materials. The panels are insulated and already fitted with the wiring, plumbing, and fibre optic cables each apartment needs.
To keep energy consumption down, the building has underfloor heating, LED lighting, and sensors that make sure lights come on only when they're needed.
There's also a low carbon hot water system. It combines a wastewater heat recovery pump and an air source heat pump to supply all the building's hot water.
To top it off, 303 Battery will have 600 solar panels and battery storage to keep the lights on when the sun goes down.
Sustainable apartments are the new norm
Today, these apartment blocks are standout examples.
But as net zero ramps up, pressure from homebuyers, residents, investors, and regulators is pushing sustainability up the agenda.
In the not-too-distant future, you can expect apartments with green roofs, solar panels, EV chargers, and other sustainability features to become the norm.
At Powerverse, we're market leaders in smart EV chargepoints, solar panels, and battery storage. Check out our EV charging solutions for apartment block managers here.