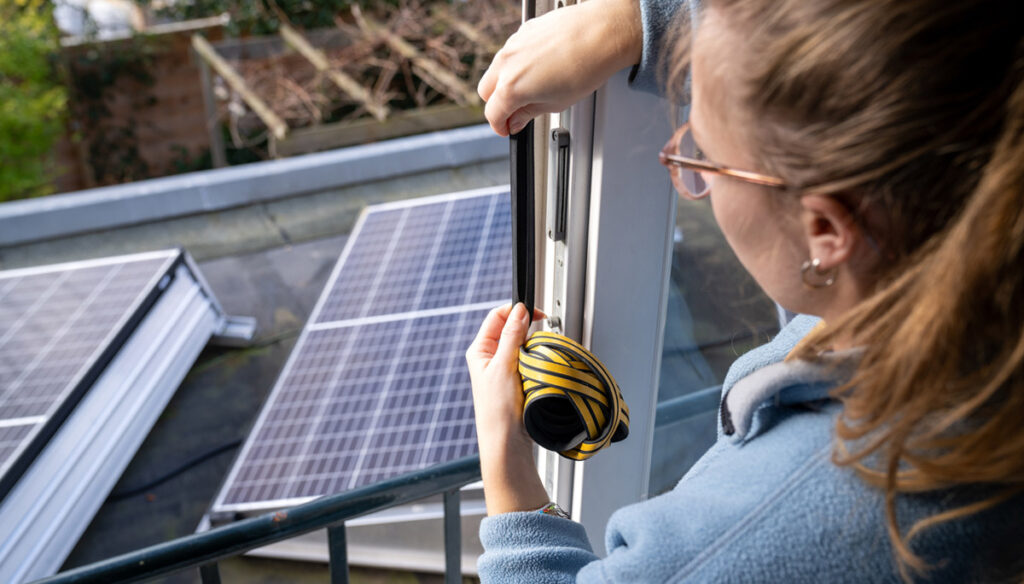 If you're on a Grand Designs mission and are renovating your home, building eco features into it is a no-brainer. It'll save money on bills, increase your home's value, and help you do your bit for the planet.
Extension?
Loft conversion?
Sprucing up a few rooms?
However grand or practical your plans are, we've got some planet-friendly tips for you.
Seven eco home ideas to factor into your plans
1. Energy efficient windows
Research by English Heritage found that older homes lose about one third of their heat through the windows.
If you've got wooden window frames, a lot of heat can escape through the joints. It's important that they fit snugly, and that you keep on top of the maintenance.
When it comes to glass, triple-glazed, low-emissivity glass is the gold standard. It has a thin coating of metal oxide that reflects heat back into the room, while still letting light in from outside.
If you're designing an extension or a loft conversion, think about where you position the windows too. Maximising the light coming in throughout the day will minimise your energy bills. You can kick back and bask in the sunlight, thinking about the money you're saving on lighting and heating.
2. Insulation
Insulation isn't the sexiest of home upgrades, but it packs a punch when it comes to energy saving. It helps keep your home warm in the winter and cool in the summer.
According to the Energy Saving Trust, an uninsulated roof lets 25% of the heat from your home escape.
Here are three of the most sustainable options:
Sheep's wool is a natural fibre that's kind to the planet. It insulates well, it's fire retardant, it lasts a long time, and it can be composted when you're done with it.
If you want an eco-home, it's perfect for ewe (sorry…we couldn't resist).
Cork board is a great insulator, it's resistant to damp and rot, and it's recyclable. And as a bonus, cork forests are great for the environment. They absorb a lot of carbon dioxide as they grow, and they make a good habitat for wildlife. What a corker (yeah, yeah…we know).
Hemp is a fast-growing crop that makes excellent insulation. It's got first-class eco credentials: every tonne of hemp absorbs 1.63 tonnes of carbon dioxide as it grows, and it helps regenerate soil. Hemp also biodegrades, so it doesn't need to take up space in landfill. It'll help keep your home at the perfect hemperature (Okay, okay. We'll stop now).
3. Natural paints
Do you find yourself poring over colour charts to find that perfect shade of plum?
If you're giving your home a lick of paint, natural paints are the sustainable choice.
Conventional paints have chemicals known as volatile organic compounds (VOCs) in them. These chemicals create pollution when the paint is manufactured and they evaporate into your home as the paint dries, leaving you to breathe them in.
Natural paints, on the other hand, have no or low VOCs. They perform just as well as conventional paints, without the nasty stuff.

4. A smart energy system
From facial recognition on your phone to your sat nav's live journey planning, artificial intelligence is transforming how we live.
The revolution is happening in homes too. Smart home energy systems use AI to help manage and optimise your devices, appliances, heating, and solar panels. They can automatically control when things go on and off, so you use less energy and pay lower bills.
5. Solar panels and a home battery
Solar panels give you free and clean electricity. Falling costs and high energy prices mean the payback period is shorter than it has ever been. They're fast becoming a no-brainer.
Pair them with a home battery, and you'll be able to store some of the energy for when the sun goes down. A correctly spec'd solar system can slash your electricity bill by 80-90%.
6. A wildlife haven
Designing your dream eco abode isn't just about the building.
If you've got a garden, it's an opportunity to enhance local biodiversity and create a space for you to relax. Planting native wildflowers and not going overboard on the manicured lawn will help you support an abundance of wildlife.
And if you've got a flat roof, how about creating a green roof? As well as giving a biodiversity boost, they help keep the building cool in the summer, provide insulation, and extend the life of your roof.
7. Underfloor heating
You can't beat stepping onto a heated floor and feeling the warmth rise through your feet. But underfloor heating is both luxurious and a great eco option. What a combo.
Traditional radiators heat a small area (the radiator) to a high temperature. This uses a lot of energy. Underfloor heating, on the other hand, does the opposite. It heats a larger surface area to a lower temperature.
Because it doesn't have to get so hot, it uses much less energy. As well as lower energy bills, this also makes it the perfect companion for an air source heat pump.
About Powerverse
We're industry experts in home energy management, solar panels, and electric vehicle chargers. Our market-leading home energy systems use the latest smart technology to help you create a modern, sustainable home that's low on energy and high on luxury.
Talk to one of our experts to find out more.