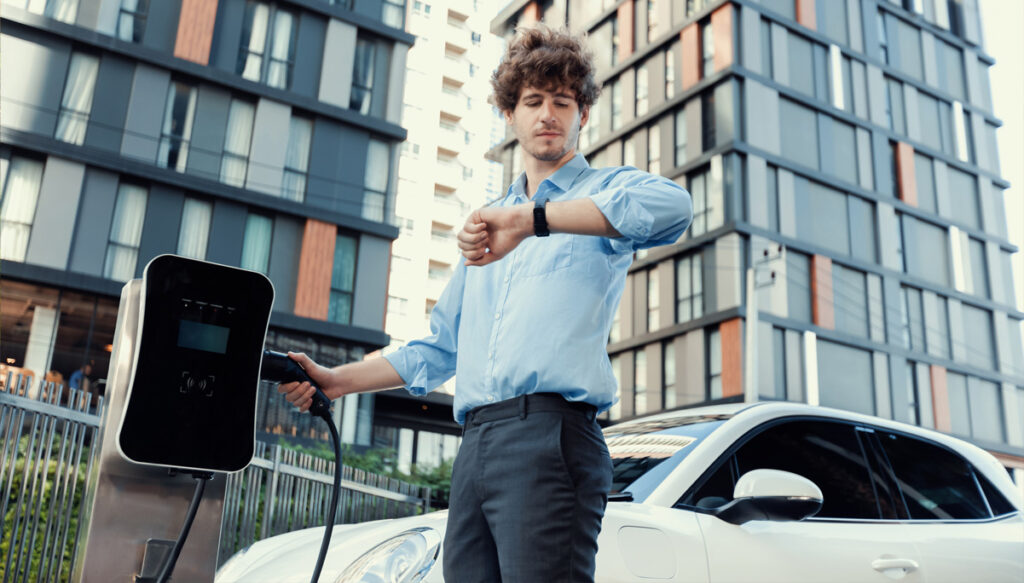 Calling all apartment block residents! Did you know you could be benefiting from government EV charging grants?
Maybe your apartment block manager has already installed EV chargers for you and your fellow residents. But if that's not the case, read on…
The transition to electric vehicles is well underway. Sales of EVs are rocketing, they're everywhere on the roads, and the petrol and diesel gas guzzler ban is on the horizon. However, if you live in an apartment, you've probably got one nagging question: how do I get an EV charger installed in my apartment block's parking area?
EV chargers in apartment blocks make sense for everyone
Electric cars are the future. The government is backing them. EVs are just cheaper to run and require less servicing. And, of course, they're better for the planet because they don't emit any fumes.
But owning an EV without access to your own charger can be a bit, well, meh.
The novelty of hanging out in a supermarket while your car charges wears off quickly.
What you really need is to be able to plug in when you get home and forget about it.
The good news?
Installing electric car chargers in apartment blocks is both straightforward and in everyone's interest – yours, your fellow residents', and your building manager's.

Make your apartment block manager aware of the benefits of on-site EV chargers
If your apartment block manager isn't on the case yet, they should be.
Electric car chargepoints bring a host of benefits for both residents and the management.
With sustainability topping the agenda everywhere, they'll increase the value of your apartment and the block as a whole.
Apartments will be easier to sell and they'll attract more interest from buyers. Research by Legal & General shows that people are willing to pay 10.5% more for a low carbon home. The same research reports a 34% increase in searches for eco-friendly homes.
The time will come when access to a charger is a deal-breaker for most buyers and people will want to move out of blocks that don't have them.
What's more, installing chargers now will future-proof the building against environmental requirements down the line.
EVs are here to stay and the 2030 ban on petrol and diesel cars shows that governments will use regulations to enforce the switchover.
Mobilise your fellow residents
The more people get behind the plan to install chargers, the smoother the process will be.
We'll bet it's something plenty of your neighbours have thought about, even if they don't own an electric car. Worries about where they'll charge up will probably already have put some of them off making that purchase.
Having fellow residents behind the plan will make your apartment manager's life simpler and the whole process faster.
There are grants available – get them before it's too late
Right now, there are grants available from the government to pay for new chargepoints.
The Office for Zero Emission Vehicles (OZEV) EV grant offers people living in an apartment £350 off the cost of a home charger.
To be eligible, you need to have off-street parking and own or lease an EV (or have one on order). If you've got a second EV, you can claim for two chargers.
Because your chargepoint is likely to connect to a communal electricity supply, your apartment manager usually needs to oversee the process. That's why it helps to have your neighbours on board, so that several can be done at once.
As well as the £350 grant for you, your apartment manager might also be able to claim up to £500 per parking spot using the EV infrastructure grant for residential car parks.
That's up to £850 off the cost of each chargepoint. Car-ching (sorry).
We don't know how long these grants will be around, so our advice is to get in quick in case they get pulled at short notice.
Minimise hassle for your apartment block manager with an all-in-one EV charging solution
One concern your apartment block manager might have is the extra workload to deal with.
We get it.
Contractors to coordinate, cables to lay, government grants to apply for.
All that sort of stuff.
That's where an end-to-end chargepoint package (like ours) designed specifically for apartment blocks comes in.
It looks after everything, from supplying the chargers to managing the installation, to help getting the grants.
All the hassle taken care of.
Our chargers come with a smart, state-of-the-art user app that makes charging simple and secure too. Payments are automated, you can see exactly how much energy you've used, and only you can authorise charging on your chargepoint.
About Powerverse
If you own an apartment and want to get an electric car charger, you've probably got a few questions.
At Powerverse, we provide a one-stop shop for EV chargers, home energy management, solar panels and more. Turn to us for hassle-free and cost-effective chargepoint solutions that deliver an excellent user experience and use reliable installers and the latest tech.
Find out more on our dedicated EV charging for apartment residents page.