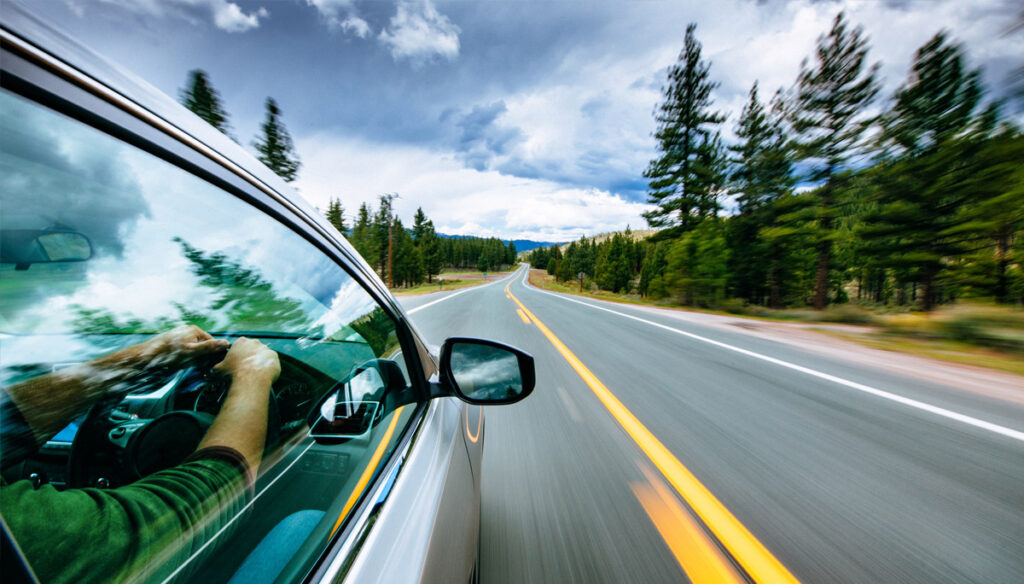 Before we dive into our pick of the fastest EVs this year, let's take a moment to acknowledge the outgoing kings of the road.
Cars like the Golf GTI, the Porsche 911 R, or the Ferrari 458.
From turbocharged German hot hatches to dreamy Italian supercars, there's no doubt the internal combustion engine has given us some unforgettable icons.
But with the incoming ban on new ICE vehicles, the petrolhead era is inevitably drawing to a close.
Sure, they'll be around for a while yet. Enthusiasts will still be wheeling them out at vintage car shows in 2040 and beyond.
But these days, it's all about the new kid on the block: the EV.
And if you ask us, there's plenty to be excited about.
We know an EV powertrain doesn't have the throaty rumble of a Porsche 911 R. But what it lacks in roar, it makes up for in torque.
Unlike a fossil-fuel vehicle, an EV powertrain doesn't have to work up through the gears to get up to speed.
Acceleration can feel almost instant.
There's a growing group of EVs that can do 0-60 mph in less than 3 seconds, including some SUVs and saloons that wouldn't look out of place in the supermarket car park.
To put that in perspective, a Formula One car – such as Lewis Hamilton's Mercedes W14 – does 0-60 mph in about 2.6 seconds.
Here's our pick of the fastest EVs in 2023.
Tesla Roadster (second generation)
We'll start with one that's been in the offing for a few years but hasn't been released yet: the second generation Tesla Roadster. Unveiled as a prototype in 2017, it's due to go on sale in 2024.
The first generation Roadster hit the tarmac in 2010, when EVs were still niche. It did 0-60 mph in just over four seconds; still mighty impressive and on a par with a Ferrari F355. Tesla sold just shy of 2,500 of them and production stopped in 2012.
But if you believe Elon's claims, the second generation Roadster will take things to another level.
He says it can do 0-60 in 1.9 seconds and hit a top speed of 250 mph. It's due to have a range of 620 miles, thanks to a gigantic 200kWh battery.
The secret behind the numbers? The Roadster will be equipped with compressed-CO2 thrusters taken from Tesla's SpaceX mission.
A car that will – literally – go like a rocket.
Vital stats 

0–60mph: 1.9 seconds

Top speed: 250 mph

Price: £250,000
Aspark Owl
A true hypercar, Japanese engineers Aspark only produced 50 units of the Owl. A pure performance machine, it's built around a carbon fibre monocoque chassis and was designed to be the fastest accelerating car on the planet.
Did it succeed?
The stats say yes. With the Tesla Roadster in its rear-view mirror, it can hit 60 mph in just 1.69 seconds.
Fancy one?
You'll need deep pockets and a spare £2.5 million.
Vital stats

0–60mph: 1.69 seconds

Top speed: 249 mph

Price: £2.5m
Rimac Nevara
Croatian EV manufacturer Rimac was born in 2009 after founder Mate Rimac converted his 1984 BMW E30 M3 into an EV.
The Nevara is the company's second purpose-built EV and was unveiled at the Geneva Motor Show in 2018 as a concept car. The first production prototype came out three years later in 2021.
The numbers? 0-60 mph in 1.74 seconds, 258 mph top speed, and a £2m price tag.
The Nevara has the pros' seal of approval. Former F1 World Champ Nico Rosberg was the car's first ever buyer, taking delivery of number 1/150 in April 2022.
Vital stats

0–60mph: 1.74 seconds

Top speed: 258 mph

Price: around £2m
Porsche Taycan Turbo S
Moving away from hypercars and onto something you could take the kids to school in, we have the Porsche Taycan Turbo S.
But just because it looks like a "normal" saloon car doesn't mean it hangs about.
It can put out 751bhp, does 0-60 mph in 2.8 seconds, and has a top speed of 162 mph.
Unlike other EVs, the Taycan has a two-speed gearbox, using the first gear to pull away and the second gear for everything else.
It's got a range of 282 miles from a 93.4 kWh battery, and it can charge quickly. In just 4.5 minutes, you can boost the range by up to 60 miles.
Vital stats

0–60 mph: 2.8 seconds

Top speed: 162mph

Price: £135,326
Tesla Model S Plaid
Want to upstage the Porsche Taycan Turbo S-owning parents at the school gates? Get in line for a Tesla Model S Plaid.
It's another example of an EV supercar disguised as a practical family daily driver, albeit a superfly one.
It's got a 0-60 mph time of 1.98 seconds (shall we just call it 2?), over 1,000 bhp, and a top speed of 199 mph. Not much use unless you can swing by the Nürburgring on your way back from the school run, but impressive nonetheless.
In addition to that speed, the Plaid S can cover about 345 miles on a single charge of its 100 kWh battery.
Vital stats

0–60mph: 1.98 seconds

Top speed: 199 mph

Price: From £125,000
A revolution in high-performance cars
The electric powertrain has opened a world of potential in vehicle technology.
These five examples just scratch the surface of the many high-performance EVs heading our way.
We can't wait.
About Powerverse
Do you have EV customers with range anxiety or worried about where they'll charge their new vehicle?  As providers of EV chargepoints and innovative smart home energy systems, we can support you.
Talk to us about how we can help you tailor your customer offer with bundled home EV charging solutions, including a home EV chargepoint, solar panels, and a smart app to manage it all. Find out more.